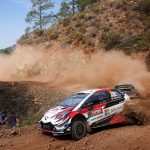 Date:                                       Saturday, September 15th
Day:                                         2                                                                Flash N°:      11
Special stage:                       Yeşilbelde 2                                            Distance:    34.24 km
Weather:                                Hot and sunny                                       
Road conditions:                  Dry and dusty                                        
Car 1.  OGIER/INGRASSIA
Off the road on the right-hand side of the track 19.8km into the stage. It looks as though
there was an impact but the crew were okay and out of the car.
Car 3.  SUNINEN/MARKKULA
"It was cleaner and narrow with a clean line. There was a lot of tyre wear. I was trying to
save the tyres."
Car 4.   MIKKELSEN/JAEGER-SYNNEVAAG
Rear-right wheel damage, a puncture, a stall, a spin and rear-wheel drive only for the
angry Norwegian. He slipped from a comfortable lead into fourth place. Mikkelsen then
stopped on the road section to carry out emergency repairs.
Car 6.  PADDON/MARSHALL
Passed Breen after around 24km. "No problems passing Craig. He was just getting back
in the car. It was hard on the tyres even on the hard tyres. I didn't manage the tyres the
best."
Car 7.  LATVALA/ANTTILA
"It's incredible the conditions on the stage. We had a rear puncture and hydraulic pressure
problems on the stage. Now we are losing time. Let's see what the hydraulic pressure
does."
Car 8.   TÄNAK/JARVEOJA – fastest time
"It was really tough and hard for the tyres. It felt like the rear damper was a problem. We
will have to check now."
Car 11.  BREEN/MARTIN
Smoke entering the cockpit of the C3 during the stage and the crew continued until they
could find somewhere to pull over and check where it was coming from. It appeared to be
emanating from the transmission tunnel. They pulled over again to take on fresh air and
let smoke out of the car before restarting again. He was overtaken by Paddon after
around 24km and dropped 5min 52.6sec to Suninen. "I have no idea. A couple of
kilometres into the stage we got smoke into the car and I could not see."
Car 65.  TANNERT/HEIGL
Rolled out of the lead of the JWRC stage in SS10. The German dropped over three
minutes completing the stage and slipped to third in the category behind Emil Bergkvist
and Ken Torn.