FÉDÉRATION INTERNATIONALE DE L'AUTOMOBILE
2019 FIA WORLD RALLY CHAMPIONSHIP
RALLY TURKEY
Post-event Press Conference
15th September 2019
FIA WORLD RALLY CHAMPIONSHIP
Present:
1st Sébastien Ogier (FRA), Citroën Total World Rally Team
1st Julien Ingrassia (FRA), Citroën Total World Rally Team
2nd Esapekka Lappi (FIN), Citroën Total WRT
2nd Janne Ferm (FIN), Citroën Total WRT
3rd Andreas Mikkelsen (NOR), Hyundai Shell Mobis WRT
3rd Anders Jaeger (NOR), Hyundai Shell Mobis WRT
Pierre Budar, Citroën Total World Rally Team
Q:
Seb, congratulations, you wanted points on the board this weekend and you certainly got them. How satisfied are you now that Rally Turkey is complete?
SO:
Actually, I did it just for you guys. You asked me this morning and said it would be great for the championship. Obviously there were still 40km to go. The Power Stage was very rough and a lot of rocks and you never know what can happen. It feels really good. It was much needed for the championship fight. We were quite behind Ott and it is nice to come back a bit closer. We are still quite some points behind him but we are still alive. GB next is a rally I like. It suits me very well, so I hope I can carry on and continue to put pressure on him.
Q:
You have the mantle of King of Rally GB now. It does make the title fight very interesting. Let's talk about this weekend. Tyre strategy came into it very much so. Was that unexpected for Turkey, maybe?
SO:
Yes, quite unexpected. It's so hot here maybe you don't believe that you can use medium tyres. I don't know why. It started from the beginning from the rally on Friday. There was some rain and we started to use some medium. We thought maybe it was wrong. Friday night, I had a long check of my in-boards to see how many kilometres we had on the very rough and how many on more loose to see if it was possible to use them on Saturday morning. I tried to go on the medium. That was one of the key moments for us and we managed to make a very good time. The closest were our team-mates. There was no fight between us. They have done a great rally. I would love to fight with him. Maybe in the future we fight for the title together. Maybe next year. It was nice to have the back-up and great to have a one-two for the team. It was very needed also.
Q:
Everyone had big frowns on their faces after Germany. How much has this turned the team morale around?
SO:
I think there is not many changes have happened in these three weeks to be honest. After Germany I had a discussion with the team and I said that it is at this moment that we need to stay strong together, work even harder. The team has started to do more and realise that we need to make a bigger push. This weekend is not the result of that yet, but it is coming in the right direction to motivate everyone even more. We can enjoy this one now.
Q:
Julien, last year we saw Rally Turkey was a pivotal event in the championship. It changed the championship round and now we have seen it all over again. How excited are you Julien that the title fight is back on?
JI:
On the first stage yesterday morning, we were thinking about last year. It was like the same movie again, let's say. We were happy to go through the morning without trouble when the others have. This is a very hard rally though and with a gap of one minute or something you are always under pressure and anything can happen. We had to keep focus. It was not an easy Sunday morning.
Q:
As far as a unique challenge, we don't see anything like this?
JI:
As I said, this is not a typical one. So, why not.
Q:
Esapekka, it has been great to see you happy, back on form and enjoying your rallying this weekend. Second and part of a Citroën one-two. How are you feeling?
EL:
I feel really satisfied. Today was about driving safely and we managed to do that. Along with Seb, we got some very important points and a good result. It feels really good.
Q:
You had a good minute over Andreas Mikkelsen. There was no pressure from behind today, but we did see a little mistake. You didn't lose too much time. Was that a bit of a wake-up call this morning?
EL:
I don't know if it was a kind of moment. Let's say I played it on the safe side. We had the wheels snap a little bit and I could have saved it, I guess, but to be sure I stopped the car and reversed to make sure that I did not catch anything. That long gap allowed me to do that.
Q:
We saw you set such an amazing time on Friday in the damp weather with hard compound tyres. How did you manage that?
EL:
I don't have an answer for that. To be honest, our car ran very well. If it's going to be like that in Wales then we have no worries.
Q:
Janne, we talked about the unique challenge of this rally. But how tough is it for the co-drivers?
JF:
Excellent question. I don't know. In a way it's difficult. When you look up the road you think you have missed a pace note because you can only see rocks. Have you missed the line or is something wrong? It's a unique event and that is the beauty of this sport.
Q:
Looking across the stages that we had, what would be the most challenging here if you were to pinpoint one?
JF:
The long one on the Friday morning. It's a lottery who can survive it without any drama.
Q:
Andreas, third position overall. We have seen brilliant pace from you all event. Are you happy with the result at the end?
AM:
Yes, I think I can be very satisfied. Things were looking quite difficult after Friday afternoon. We started Friday morning on a good pace and then didn't put the correct tyres for me on the car and we dropped back a lot. Throughout Saturday, it was about trying to catch Teemu, who was in front. At the same time trying not to do any mistakes. This rally was about managing the pace and I think we did that quite well. I stuck to my strategy. I had a little bit too much tyre wear on second passes, in general, but we had good stage times. Overall, third place is a good result and it's important points for the Manufacturers'. We also increased the gap on Toyota, which was the main point for this weekend. I think we can be happy with that.
Q:
Teemu wasn't far behind today. How much were you pushing this morning?
AM:
Normally on the first passes we were quite a lot faster than Teemu, so I started the first stage this morning, nothing crazy, but a good pace. Already we could see that we had quite good control so, after that, we went safe on the last two stages with no risks. The car was working well and easy to drive.
Q:
We talk about drivers who are under pressure and out of contract for next season and whether they thought that showing pace here was going to help. Do you think it has helped your cause for next year?
AM:
Good results are never a bad thing. There are a lot of drivers who are standing without a contract for next year. It is always important to deliver good results and what has been quite a difficult one and a half years. The feeling is improving, we are making the changes to the car to my liking and I am really enjoying myself at the moment.
Q:
Anders, a podium here on Rally Turkey. In terms of the pressure and stress level on your shoulders, what has it been like this weekend?
AJ:
It's been a normal Turkey, really rough. You can always be in control but still not fully in control. So you are always a bit stressed heading out to the stages. As we know, suddenly there are big rocks in the line and you have to do some manoeuvre to get past. When you reach the podium it is a good feeling. The weekend has been really good except for the long stage on Friday where we more or less lost the opportunity to fight for the rally. That's how it is. Other than that, we are happy for the team to secure some points and increase the gap.
Q:
Pierre, a Citroën one-two at what could be the most challenging event of the calendar. How satisfied are you that Sébastien and Julien appear to have a good amount of points here and Esapekka and Janne are also on the podium in second?
PB:
Of course, it could not be better than the result this weekend. It is quite a result, one and two. Our crews have been fantastic and the cars have been reliable and also the performance. We have increased work in the factory. The results from this weekend are also because of work that has been done before. We can see on the gravel we have improved, not enough, but we have improved. Now we have to focus on tarmac so that we can fight also on tarmac.
Q:
You have two days of tarmac remaining in the championship in Spain. How confident are you feeling that these two can take the title this year?
PB:
We are here to fight until the end. I am still confident. I mentioned that we still have to do some work. We have modify our planning to increase and we have a test on tarmac before.
Q:
What specific areas of the car will you be working on for the tarmac?
PB:
We know we have some trouble on the chassis and so on. That sort of thing.
FIA WRC 2 PRO CHAMPIONSHIP
Present:
Gus Greensmith (GBR), M-Sport Ford
Elliott Edmondson (GBR), M-Sport Ford
Q:
Gus, a second win for you this season in WRC 2 Pro. But, my goodness, you don't make it easy on yourself. Rolling over the flying finish of the penultimate stage. Did you think it was game over then?
GG:
It went through my mind, for sure. I was distracted a couple of corners before and basically we rolled into a ditch. We did manage to get out of the ditch and we went to the road section to the Power Stage. It's one of those things. I shouldn't have been distracted. I should have kept my focus.
Q:
Elliott, a great performance from you. What were your thoughts on the weekend?
EE:
It really wasn't being our weekend. We had been having quite a tough time. We had a couple of punctures, but we thought we would get through today and get to the finish. But, as we all know, it wasn't that straightforward. We kept it going and never gave up and got here to the end. It couldn't be better really.
Q:
How difficult was it to get the car back on four wheels?
EE:
It was actually just on its side. We did think it would be very difficult but we managed to do it with three of us – us two and a marshal. We got it back on four wheels, took it down the ditch and somehow got it back on the main road!
FIA WRC 2 CHAMPIONSHIP
Present:
Kajetan Kajetanowicz (POL)
Maciej Szczepaniak (POL)
Q:
Kajetan, the first time we have seen you on the top step of the WRC 2 podium. How are you feeling right now?
KK:
What can I say? This is an amazing feeling. We won the most difficult rally in the championship. I spoke with my team and I said to them we have a lot of things to do to be champion. We are leading now, but it is not enough. We want more.
Q:
All drivers always want more. Like Gus, you had a problem near the end – a broken drive shaft. How did you feel before the final stage?
KK:
I start my career in Fiat 126, a small car with two-wheel drive and that is why we did it. We had a big gap between us and that was enough.
Q:
We saw a lot of your fans in the service park. How nice was it to have that?
KK:
It's amazing. I love them. It's a good feeling and they give me good support and my team, They work very hard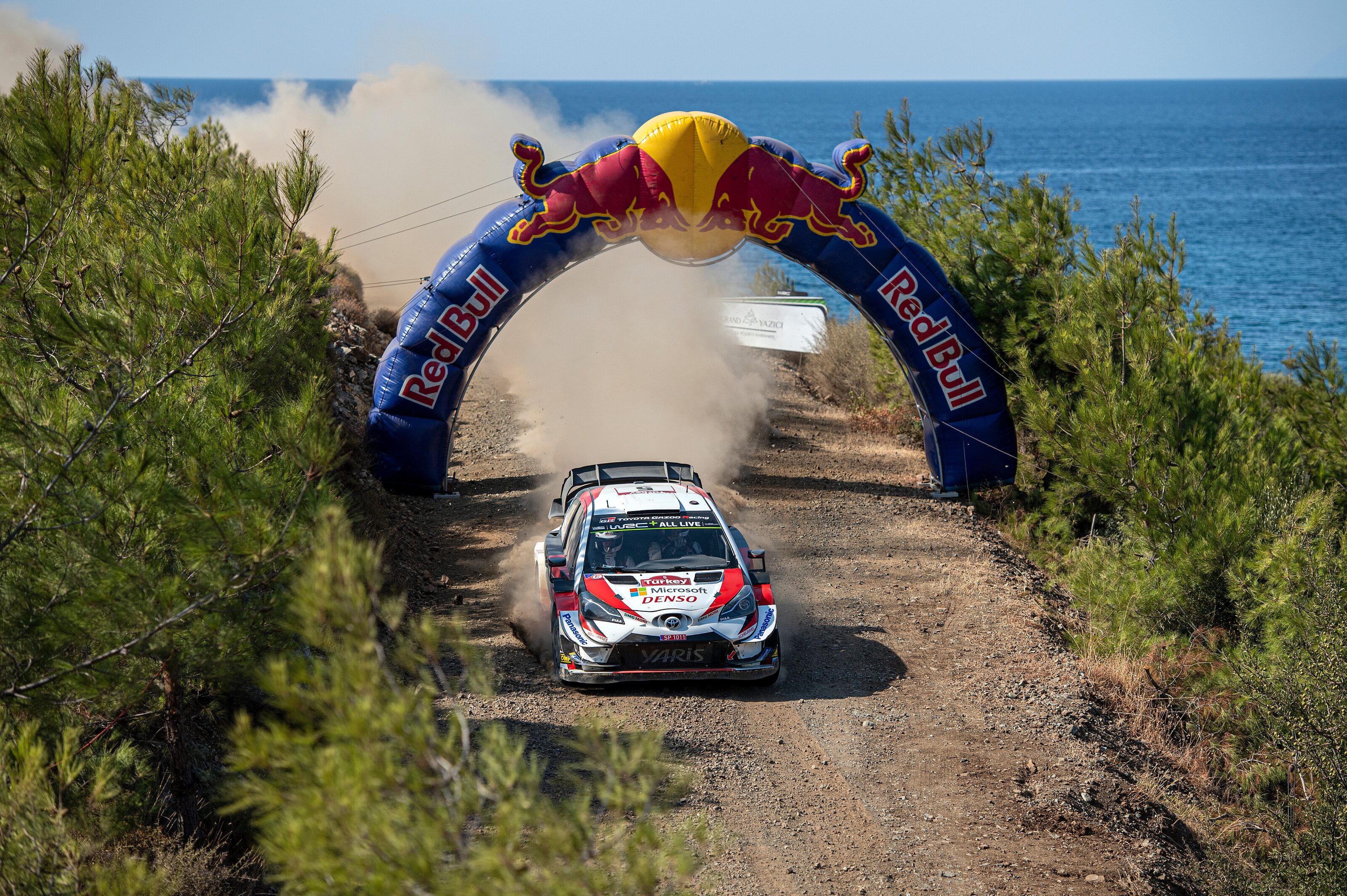 .
Q:
Maciej, great to see a victory for you here in WRC 2. Tell us how tough a weekend it has been out there?
MS:
This is the most difficult rally of the season. The rally starts badly for me because I got some infection during the recce and was speechless for the Friday and half the Saturday. It was difficult for Kaeto (Kajetan). Kaeto showed an amazing performance. He was able to nurse the car and push it to the limit.